Zara Man, London
Brrrrrr!!! Frigid fronts with sparkling snow is what much of the United States and United Kingdom are forced to battle these past few weeks, so why not brave these unforgiving conditions in style? Purely and simply put, woolen clothing is a must for the cold seasons. Wool is perhaps my ultimate favorite fabric, not only for keeping warm, but because it's undeniably timeless, classic, and will never go out of style. Whether thick or thin, be sure to own several styles of woolen sweaters in your wardrobe.
Now, kind ladies and gentlemen, this prompts me to discuss one major trend this season called the Country Heritage theme. This beautiful look, which ultimately leads to the lovely and intricate Aran sweater knits, is currently exhibited by designers and retailers worldwide. Originating from the Aran Islands off the coast of Ireland, Aran sweaters are typically bulky garments with prominent knitting techniques, such as the renowned cable-knit stitch. Initially a fisherman's sweater, often knitted in cream color, the unmistakably textured garment is now worn worldwide by males and females alike.
A few short hours ago during my journey home, I managed to find two lovely classic Aran-knitted cream merino wool scarves (pictured below). The bulky one on the left will be given as a stylish Christmas gift with the one to its right finding its home around my neck. Both scarves, 100% merino wool, made in Ireland, featuring several types of Aran-knitting in each (Cable, Irish Moss, Honeycomb, and Diamond) retail for $150 each which I graciously found for a mere $29 at an off-price retailer (TJ Maxx). This short story of mine proves that you need not always spend a shiny penny on quality fashion pieces.
The following are Aran Knits offered by fashion retailers across the globe:
Topshop, London
Peek Cloppenburg, Berlin
Jean Paul Gaultier, Paris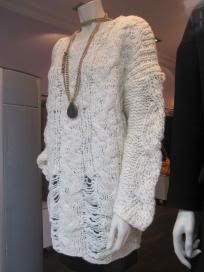 Bel Air, Paris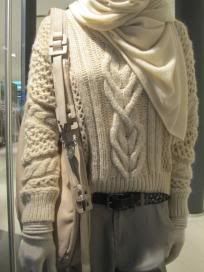 Stefanel, Berlin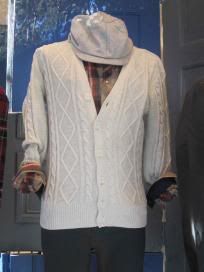 Forever 21, New York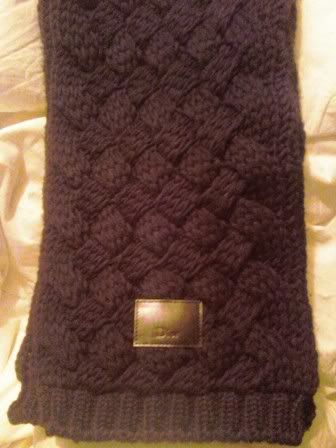 Dior Homme, my personal wardrobe.
"Knitwear is still very elegant and it will last forever. It is always very satisfying to make something with one's hands and that is, I think, why knitting is so popular. There is a great art in knitting beautifully and a beautiful frock, knitted in fine wools in a delicate pattern, is as great a work of art as a painting, and more practical!"

- Christian Dior, 1954