Last week saw Dior's triumphant return to New York's luxe 57th Street with its flagship boutique reopening on December 11, 2010 . For a seemingly endless five months, the iconic label's shop entrance and facade was masked with none other than a massive and fabulous Lady Dior handbag which was a lovely sight to say the least.
Last week, the bag was finally lifted and Dior's new boutique was celebrated and received with complete adoration and splendor. Personally, being a true and genuine fashion lover, I've been highly anticipating the reopening and made it an unequivocal priority to visit the location on its relaunch. The result: I couldn't have smiled more in my entire life. The boutique has been stunningly remodeled with a complete makeover in the spirit of the iconic Dior flagship on Avenue Montaigne in Paris (which was also previously remodeled in 2007). The building's facade displayed a glamorous light-installation of one of Monsieur Christian Dior's iconic sketches of his revolutionizing 1947 Bar suit ensemble from his critically acclaimed debut collection, Corolle (More famously known as "The New Look"). I've dubbed this character, Lady Dior. She gracefully arrives in New York being effortlessly glamorous, elegant and timeless. I stood across this beautiful image for what seemed as an eternity all the while found to be in complete awe while smiling endlessly. The ability to witness a wonderfully historic image massively displayed in lights was a priceless moment indeed. The front of the boutique sparkles as though the entire facade is covered in diamonds which brightly illuminates the immaculately merchandised window displays.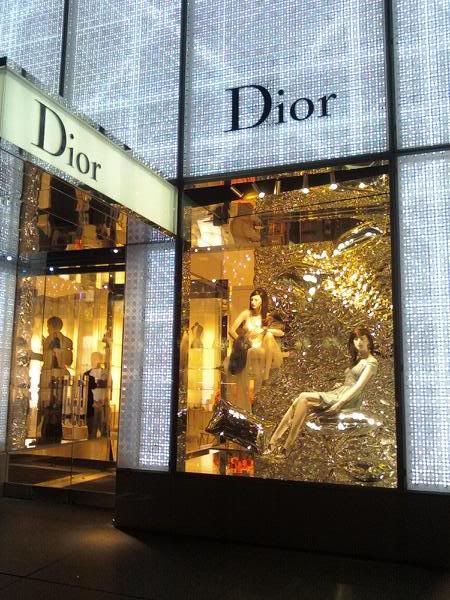 Upon venturing inside, the boutique's remodeling is sleek, sophisticated, and oozes with elegance and style. My favorite touch was the usage of vintage soft-gray Dior workshop chairs which are strategically placed around the boutique. In fact, I wouldn't mind having one of those marvelous chairs for myself! While climbing the grand staircase, which leads me to the couture, shoe, and subsequent VIP areas, the walls are vibrant with colorful images of all things French (Paris, Dior, and couture). Upon reaching the top of the marble staircase, there are limited edition New York exclusive pieces, designed by Dior's chief designer, John Galliano, displayed in glass casings spread about titled, "Edition Limitée New York" (a mere handful of which are classic Lady Dior handbags encrusted with 628 diamonds cut with 57 facets to reflect the 57th Street location.) Also included are remarkable shoe designs which Galliano has signed on the inside himself.
After carefully and meticulously viewing each and every dress, blouse, jacket, gown, shoe, blazer, hat, and skirt the second floor had to offer, I found myself chatting famously with a rather sweet Dior representative by the name of Geny (pronounced "Jenny"). From Monsieur Dior's early stages to Galliano's ingenious designs, we discussed the boutique with a clear mutual respect for all things Christian Dior.
"At the risk of being thought soulless, I must admit that clothes are my whole life. Ultimately, everything I know, see, or hear, every part of my life, turns around the clothes which I create. They haunt me perpetually until they are ready to pass from the world of my dreams to into the world of practical utility."

- Christian Dior (1954)
Note: All photos shared were taken by yours truly :)