Diorable in Black
Not only as a New Yorker, but as a fashion-conscious male, black is quite simply the most integral color to own in one's wardrobe. In other words, you can never go wrong with black. I've always noticed that I tend to predominantly dress with a foundation in black during all seasons, so I suppose it's safe to say that black is my favorite fashion choice. As striking as it is, the color exudes elegance and boldness while remaining an undeniable classic. Long gone are the outdated ways of black being widely and negatively regarded as a mourning color. Instead, fashion consumers today have fortunately realized that:
A. It is the most slimming of all colors.
B. It can be paired flawlessly and effortlessly with any other color.
C. It masks body imperfections quite easily.
Indeed the aforementioned three bullets regarding black are apparent, so why not use this invaluable color to your advantage? Quite simply, if you're going to buy an article of clothing, be sure that black is your first and foremost selection.
Above is a photo of yours truly dressed mostly in black. Gentlemen should be wearing more black overcoats which, as you can see, is a top favorite selection of mine for the fairly unforgiving New York winters. Classic as it is timeless, it will never go out of style. Sitting around my neck is an infallible and intricately-knitted black wool Dior Homme snood. Large enough to show texture, small enough to remain elegant and not pretentious (I've received endless compliments on this remarkable piece and also own it in gray, another integral color I will blog about soon enough.) Black makes your face stand out, so take note how the color easily draws the viewer to your face. The simplest way to pull this off is to don a knitted black scarf.
Let's take this one step further, shall we?: how about dressing in full-on black? Sounds daring or somewhat challenging, doesn't it? Kindly put, wrong. If executed properly, a full-on black ensemble is commanding. Just this past Friday morning, I walked into class where my professor was fully donned in an all-black ensemble looking stunning. Wishing I had taken a photo, she wore a pair of black pants, a beautifully-knitted black sweater, a black fur vest, with her elegant black leather Prada handbag and rounded out her look with applying deep and classic red lipstick. She executed the look quite stunningly.
The simple rule to successfully dressing in all black: texturize! Yes, ladies and gentlemen, select pieces of different fabric composition and texture if you want to properly achieve such a bold statement. If your heart desires denim, by all means slide on those tight, sexy black jeans, but be sure to wear a top of contrasting texture, such as wool, silk, or cashmere. Top it off with a leather belt and throw on a lovely wool scarf or snood if you can to simply round out the entire look (I suppose a nice knitted black necktie for the conservative males will be a more appropriate suggestion for those not ready to be so risky). Undeniable style guru, and one of my ultimate favorite fashion icons, Victoria Beckham, has no problems with this technique.
Black Posh
Spicy Textures
Another historic and integral item to any woman's wardrobe is the little black dress. Ladies, be sure to own at least one simple and timeless black dress in your closet to pull out for interviews, events, or a night out. Chanel will approve.
Notice the different styles of little black frocks worn by my absolute favorite group, Girls Aloud.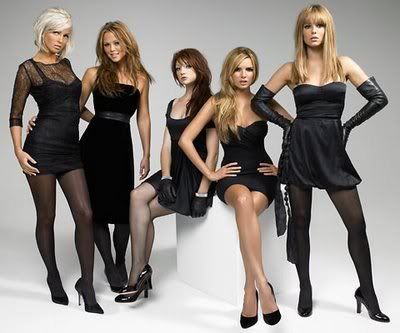 Black Aloud
"You can wear black at any time. You can wear it at any age. You may wear it for almost any occasion. A 'little black frock' is essential to a woman's wardrobe. I could write a book about black..."

- Christian Dior, 1954